Joshineon

Add Joshineon as a friend

Joshineon will be notified and will have to accept this friendship request, to view updates from Joshineon and their ratings you must follow them.

Remove Joshineon as a friend



About me
Peruvian / Spanish - English
Films, Movies, Kino ... I just watch everything I can.
Also a big fan of music, videogames, series, cartoons, books, comics... well everything i can add in this site.
About my collections
letterboxd.com/MrJoshineon/
Lists
Recent reviews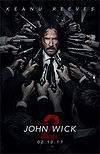 Posted : 5 years ago on 3 June 2018 08:15 (A review of
John Wick: Chapter 2 (2017)
)
Better than the first, this movie actually make me think te first one was unnecesary, this supose to be a direct sequel of the one, but if you dont see the first you can enjoy this, also the third will be a really direct sequel of the first. With better action than the first and a more convincing story, this is a film for the action fans.

0 comments,
Reply to this entry

Posted : 5 years ago on 3 June 2018 08:07 (A review of
The Boss Baby
)
Ridiculous and not creative, witah a good message about family but a bad execution, Boss Baby is one of the worst Dreamworks movies in a long time.

0 comments,
Reply to this entry
Movies
TV
Games
Music
Books
Favorite Authors
DVDs